Membership

Gathering Soulful Community for Personal and Planetary Transformation
Dear Friend of A Whole New World,
Can you feel a new consciousness flowing through you and the world, transforming everything in its path?
Even though you know in your heart these changes are potentially very positive, you're aware the world as we have known it is melting and collapsing all around and inside us, and it's challenging to ride the rollercoaster of change at times.
Like me, I'm sure your heart has been broken over the years, as you've watched the destruction of the natural world and the loss of life in wars that don't make any sense to you. You may have felt you were trudging through a desert with no kindred souls in view. But somehow you've managed to keep the flame of possibility for a better world alive inside you; even when others turned away, you never let that flame be extinguished. Thank you, I love you for that!
Perhaps, you've carried a dream in your heart of the way we could live together in harmony with all beings on Earth. You may have already had a taste of peaceful and loving community and know how beautiful, and alive with meaning, life can be.
You may have found meaning in learning itself, as the understanding grew in you that we are changing the world from the inside out. Perhaps right now, you're experiencing  a compelling need to free yourself to express and create more authentically and passionately.  Or, like me, you're weaving a creative enterprise from your soul work, using your passion, experience, wisdom and longing.
Now, finally, after all this time, we change-makers and transformational catalysts are finding each other, and coming together in soulful communities. We are starting to understand that, what from one perspective appears to be a profound crisis in the world is the chance we've been waiting for our entire lives. As things fall apart there is a Great Awakening of consciousness spreading throughout the planet and it is time to co-create the kind of Whole New World we really want.
Imagine a world full of beauty in which every single person is respected for their unique gifts.
A world in which creativity and self expression are cherished.
A world where everyone feels at home, and has a home, nourishing food to eat, educational opportunities and valued work.
A world in which we live in harmony with all living creatures.
Where people aren't judged for their color, accent, age or gender but diversity is highly valued.
A simplified world, without all the stress of industrialized living, yet with all the advances of science and technology.
A world where wealth is shared and everyone has enough.
A world without war in which all the money now spent on killing and destruction is used to support people to live their highest potential.
I'm sure you can imagine this and more, because somewhere in our cells we know what is possible and why we're here now, gathering together, each one of us getting ready to play our unique part in the conscious co-creation of a New Story and a New Culture.
Staying awake and conscious means opening our hearts to the suffering on Earth, whilst at the same time staying empowered. When we know what we can do to make a difference and do it, no matter what, this sacred calling draws out and ignites all of who we are and can be.
Join us in spreading seeds of possibility, as we grow our soulful global community.
We have been laying the foundations for A Whole New World over several years and now we're launching the next stage of our global project with a program of activities designed to connect, inspire and empower.  Our regular free weekly offerings include blog articles, newsletters and:
Starting on Friday 25th June at 1pm ET, and then every Friday, check out the A Whole New World Radio Show on Real Coaching Radio Network. I'll be exploring the essential elements of personal and planetary transformation through a series of creative conversations with a range of innovative guests, especially what it means to become more conscious and change the world from the inside out, and how people are bringing the new consciousness down to Earth in life changing initiatives.
Each week, we gather on a teleclass call for Soul Sanctuary, with a focus on unity consciousness and planetary healing followed by a heart sharing circle.The next series starts in September.
Want to know more?
Become A FRIEND OF A WHOLE NEW WORLD
Join in and enjoy:
One Introductory Teleseminar per month, on a range of topics exploring the skills you need for personal transformation. See http://magnificentbeing.net/events/
A discussion forum on the A Whole New World Community Ning site, where you can explore ideas,  inspirations and questions from the weekly Radio Show and/or Creative Conversations.
Become a Friend for only $10 per month.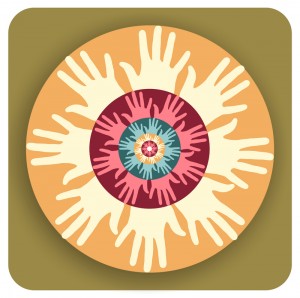 When you're ready to participate more deeply
Become A COMMUNITY MEMBER
In addition to the Introductory Teleseminars and membership in the Ning forum, you can participate in:
Community Current, a weekly Community Gathering, where we will connect with each other as a community and with our collective soul field to focus our energy on supporting each other to live our most magnificent dreams.
Affiliate Membership enables you to earn commissions by connecting people with our programs and products.
Significant reductions in 1-1 mentoring fees.
Plus, if you participate in any ongoing programs or courses $10 per month will be deducted from the monthly fee.
Become a Community Member for only $20 per month,
Or, if you're ready to become more than a friend or community member and build a more collaborative relationship with AWNW
BECOME A CO-CREATOR
For $30 per month, in addition to all the benefits of a CommunityMember, you will enjoy:
Your bio and photo in a Members Gallery, where you can spread the word about your services and products.
At each level we ask for a minimum commitment of 6 months.
If you are not attracted to virtual community (on the telephone and internet) but resonate with A Whole New World and would like to support our work, please feel free to make a monthly or one time donation.
And/or purchase our  books and e-books.
Living your Passion: How Love-in-action is seeding a Whole New World, is a great place to start. This full length book is available in paperback and is packed with interviews and practical wisdom from soul-preneurs in New Zealand who are changing the world from the inside out, along with insights into the process of personal and planetary transformation. $29.95 (includes shipping within US and NZ).
Join A Whole New World Today
CO-CREATION AND THE NEW ECONOMY
A WHOLE NEW WORLD is a fore-runner in a new gift economy which values soul work. One of our aims is to model and explore sustainable soulful enterprise outside the conventional marketplace, and make it easier for others to follow suit. As more and more people heed the call to an authentic life and develop their unique contributions, it becomes clear that soulful enterprise is an evolutionary process which is all consuming and which unfolds in its own time. We invite you to join us in inventing and discovering the New Story and laying the tracks for the New Culture as we go, through a process of experimentation, creative conversations, inquiry and participation.
The biggest challenge for many soul-preneurs is how to sustain ourselves whilst laying the foundations for a successful enterprise. In the spirit of this new soulful economy, we would do well to observe how ants, bees, or geese survive by working together. An ant colony is built as billions of ants each carry a small burden. Through our membership structure for A WHOLE NEW WORLD, we encourage you to contribute regular small sums to stimulate exchange and the flow of abundance, for the growth of the Whole.
This is a way to take a series of steps in your commitment to envisioning and co-creating a whole new world. We have set contributions low, because in this time of challenging economic circumstances, we don't want anyone to be excluded from A Whole New World due to lack of money. We encourage you to see these as $$ contributions rather than fees.  The sums do not reflect the value you can harvest and give through your participation in these learning communities. Your contributions will help to cover costs as we develop and expand our offerings and lay the groundwork for co-creative alliances and further profit sharing.
In our interviews and conversations over the coming months we will be exploring emerging forms of community economy. Our intention, over time, is to co-create with community members many different ways in which we can mutually support and prosper each other and the greater whole, moving away from the old individualistic paradigm to a genuinely interconnected soulful economy.
For more about A WHOLE NEW WORLD go to: www.awholenewworld.net and visit our blog here at  Magnificent Being.
You will find details about coming events, including access to the Radio Show here:  http://magnificentbeing.net/events
Books here: www.awholenewworld.net/books.htm E-books: www.awholenewworld.net/ebooksbuy.htm
Please become a friend of AWNW today and forward this to others who you know who will resonate too.
Heartfelt thanks to you for your participation and contribution,
See you in A Whole New World
Soulfully,
Rose Diamond, Founder
Woods Elliott, Co-creator and Primary Sponsor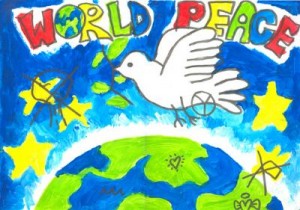 Existing sponsors and co-creators
We have dedicated four years to laying the foundations for A WHOLE NEW WORLD, with many hundreds of hours more creative thought before that. This has only been possible through the generous support of friends who saw and resonated with our vision. We don't regret a single minute or dollar spent. We know, even though the going is sometimes tough, we are amongst the most privileged people in the world, and these leading edge explorations are the most important and exciting focus we could have at this time.
The following people have been sponsors:
Woods Elliott, Co-creator of AWNW, author, artisan, deep life coach, USA.
Maggie Holling, Co-creator of TLC, Soul Sanctuary host, artist, NZ
Edith Elliott, craftswoman, great grandmother, USA
Cindy Schuler, peace and racial justice activist, USA
Bryce Taylor and the Oasis School of Human Relations, 3 month internship, UK
Avery Dash, founder of the Festival of Possibilities and Possibilities, the Shop, NZ
Daring Donna, founder Tui Retreat and the Singing Cicada, Co-creative catalyst, NZ
Integral Enlightenment, scholarship for the one year Evolutionary Life Transformation Program, USA
Cameron Bennet, Counsellor and Gatherings Co-ordinator, NZ/Aus
Siena Ammon, Founder, Cronehaven Women's Retreat, artist, NZ
Mitzi Kivett, healer, USA
Theresa Paulfranz, author, Margo Wright, massage therapist, early members, USA
The following people have been co-creators:
Rick Cross, The Earth Standards Project and Riversmeet Community Project, UK
Lianne Van der Ven,  web designer, USA
Real Coach Radio Network, USA
Happyzine, NZ
Lianne Lurie, A Touch of Earth, USA
Suzi April, Life Coach, USA
Stephanie  Ruff, massage therapist, healer, USA
Carol Dewey, The Daily Shake, USA
Living your Passion: Kat Burns, Will Lau, David Dwyer, John Massey, Mirjam Busch and Rudolf Jarosewitsch, Jonathan Evatt, Anahata and Ora Ishaya, Daring Donna, Robin Allison, Margaret Jefferies, James Samuel, Robina McCurdy, Daniel Batten, Leanne Holdsworth, Chris and Takawai Murphy, Jim Horton and Susan Jessie, Vivienne Anne Wright, from New Zealand.  Woods Elliott, Frank Cook, from USA,
The Consciousness Series: Kimberley Weichel, Cindy Schuler, Beth Hertzler, Woods Elliott,  Becky Elder, USA  John Massey, Daring Donna, Jonathan Evatt, Will Lau, Daniel Batten, Vivienne Anne Wright NZ.
The Magnificent Being Interviews: Sus Kongsbak Larsen, Beth Hertzler, Shafiya Eve, Beate Rose, Brigitte Fox, USA
First Settlers: Raora Hartmann, Nancy Barry, Sue Couch, Laurie Attridge, Siena Ammon,  Linda LaClaire, Shafiya Eve, Suzy Goodelmen, Sus Kongsbak Larsen, Carol Fazakas, Theresa Keefe Susalis, John Hlavac, Richard Hammer, Woods Elliott.
Images: AWNW banner by Lianne Van der Ven; Hands Mandala, Dreamstime by Syracuse Cultural Workers; Campfire, a detail from a painting of AWNW by Mary Ryan, Chrysalis Farm Studio Gallery; Peace Dove, from OnePeopleOnePlanet.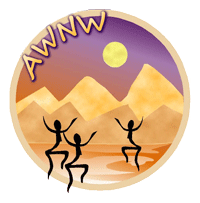 Each one of us makes a difference and together we can do what seems impossible.